8 Favorite Restaurants to try in Havana, Cuba
I have heard more often than not that Cuba will capture your heart but not your taste buds. I can't argue with the first point – in one year I have traveled to Cuba four times on our Cuban Culinary and Culture Tour. There is something about Cuba that captures your heart immediately. But I will argue with the second point–the food in Cuba IS incredible! It can take a bit of legwork to find it, but I now have several favorite restaurants in Havana. The challenges faced are twofold, in my opinion: 1. Ingredients are limited, but there are chefs doing incredible things with those ingredients, and 2. You have to know where to find it.  We're here to help! Here are 8 favorite spots for food in Havana, Cuba! Whether you want to try traditional Cuban cuisine, New Cuban flavors, Spanish tapas or just want a great slice of pizza, this list of 8 restaurants will help!
Hecho en Casa
Miramar, Havana
$$-$$$
By far my very favorite restaurant in Havana. This intimate restaurant literally feels like you are eating in Chef Alina's home. Whether you are seated in the main dining room, upstairs balcony or the garden filled with bouganvilla, Chef Alina prepares the most exquisite Cuban dishes and will likely stop at your table to ask how you are enjoying the meal. She uses local ingredients, and indigenous techniques to create an unforgettable, unmatched dining experience in Havana. Her menu changes daily, but if she has yuca crepes with pulled pork – get them!! The ham and cheese sandwich is simply not to be missed.
Bathrooms: *****
Cushioned toilet seat, towels to dry your hands, exceptionally clean
El Del Frente
Havana Vieja, Havana
$$
This fun and funky rooftop bar and restaurant is one of the hippest spots in Havana. Situated on a very narrow cobbled street in Havana Vieja. The entrance leads immediately to narrow stairs that take you to the most beautiful rooftop spot. A little background electronic music keeps the vibe going as plates of ceviche, pasta with mussels and scallops and crab tacos fill the table. The pina coladas are incredible and make the perfect boozy dessert-or start to your meal. 
Bathrooms: ****
Toilet seat, water and soap.
Ivan Chef Justo
Centro Havana
$$-$$$
This restaurant's super eclectic decor just adds to the brilliance of the menu. With a changing menu, you will definitely find something for everyone–we always order plenty of food then share! Do not miss a seafood paella or risotto. The duck confit ceviche was out of this world and the bread basket that arrives at the table first is a delight, featuring simple dips, flatbreads, fresh baguette and crackers. Wash your meal down with a canchanchara, a delicious mix of dark rum, honey and lime, served with a sugar cane swizzle stick. If you prefer the warmer air, request seating on the upper level "patio". 
Bathroom:*****
Do not miss it! The artwork in the upper bathroom is incredible. Toilet seat, towels and cute decor.
Vistamar
Miramar, Havana
$$-$$$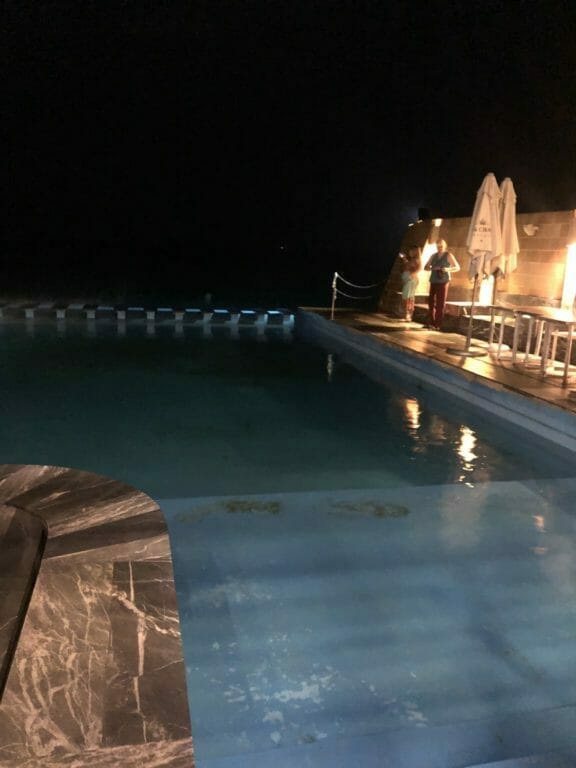 Do you like a little sea salt spray with your meal? This elegant restaurant is situated on the ocean's edge and the crashing waves make this meal as memorable as the meal. As you might guess, the focus here is seafood, but there is always an assortment of dishes to choose from. If they have lobster, get it. An entire lobster is simply cooked so that the sweetness comes shining through. The vegetarian eggplant lasagne is flavorful and filling!  The yucca croquettes are a great starter, with a delicious warm honey dipping sauce.
Bathroom: ****
Clean and simple
El Gelato
Miramar
$
The name says it all. Well, almost. This gelato shop is to die for. I love the tropical flavors such as mango and guanabana and also the non-dairy watermelon sorbet. But don't leave without a cake or confection. My favorite is the lemon pie, a soft creamy lemon filling on a crunchy crumb layer topped with a glistening gelee. 
Bathroom: ****
Don't remember
Marisuri
Centro Havana
$$
While technically a dance school, I have had some of my very favorite meals here after the excellent dance classes and the food was among the best we had in Cuba. The founder of the school, Marisuri, herself is a trained chef, and also hires talented chefs to work in her kitchen. You will NOT be disappointed. Your meals may include Lobster sauce over pasta, fresh fish, cooked with caramelized onions, rice and beans, salad, fried plantain or boiled yuca con mojo, a delightful citrus garlic sauce. You will want to dance in Cuba and this school is the BEST for lessons!
Bathroom: ***
Clean, no seat but room to change after dance class
Restaurante Bellaciao
Playa
$$
This casual pizzeria became our favorite place for a non-Cuban meal. The wood-fired pizza is so delicious! Try the Ecologica, with fresh veggies and thin sliced parmesan. The Aldo was a surprise with pepperoni and blue cheese with house-made red sauce. The specials of the day are always on pointe; I had a delicious beef and potato stew with chunks of tender beef. I usually get a mojito here and enjoy the meal under the roof in the open-air patio, but there are indoor dining spots, too. 
Bathroom: ****
Comfortable, paper is included, toilet seat
Toca madera
Miramar
$$$
This elegant Spanish fusion restaurant is nestled in a cozy space featuring an elegant, warm wooden interior and beautiful patio dining.  The menu changes daily, but if they have the beef carpaccio, get it! The seafood risotto is incredible, as are the pasta dishes. You may see a curry or teriyaki dish on the menu, which is a fun find! The dishes are served tapas style, come ready to share!
Bathroom:
I didn't go in