What is your travel comfort zone?
Mine is under a stranger's roof eating dinner
I had an epiphany in Belize. My travel comfort zone is under a stranger's roof having an unplanned meal…

Where is your comfort zone when you travel? How far will you push yourself outside of it? 

Story time:
We headed inland from the luxury of an island resort to the less touristy area of Spanish Lookout.

When we arrived at the amazing Jungle Niche airbnb, we had no idea that it was so far from everything. The driver's comment that he had "never taken anyone this far out here" should have been our clue about what was next. 

The listing's description that it was "only 2 minutes" from restaurants was generous. 
Two minutes by super fast motorcycle, 10 minutes by car, and a 45 minute walk - and the sun was setting.

We had rum, chocolate and mango between us. I mean, we weren't going to starve...but still.
In a moment of desperation, but also inspiration, I suggested that we ask our neighbors, the only people around us that we could see, if they could cook a meal for us. There were 4 small tin-roof houses on the plot of land, several children, some chickens and two barking dogs. It couldn't hurt to ask. 

We walked to the edge of neighbor's property and asked one of the small children to get her mom. The dad Roy came out and smiled as I said, "we just arrived and have no food or car. Is it possible that we could pay you to make dinner for us?" I might as well have said "we're super unprepared foreigners who have no clue how to find our way around here. Will you please have pity on us?" And luckily they did. Dinner was at 6:30!

As we walked to their house, Chloe mentioned, "asking strangers to cook in a foreign country would be far outside of so many people's comfort zone." And it hit me. "This is 100% my comfort zone," I said. Meeting people and sharing a meal together  in a place I've never been is where I feel most at home.

Roy's wife Erica made us the most delicious stewed chicken, Belize's national dish, while their 5 year old daughter April fawned over Chloe's nails. The chicken was stewed to tenderness, a thick brown sauce with an unidentifiable spice that added a depth of sweet to the savory stew. The fluffy rice soaked up the sauce and a crunch of pickled cabbage and cucumber accompanied the food. We gathered around a small card table on their porch and devoured it. We laughed. We talked.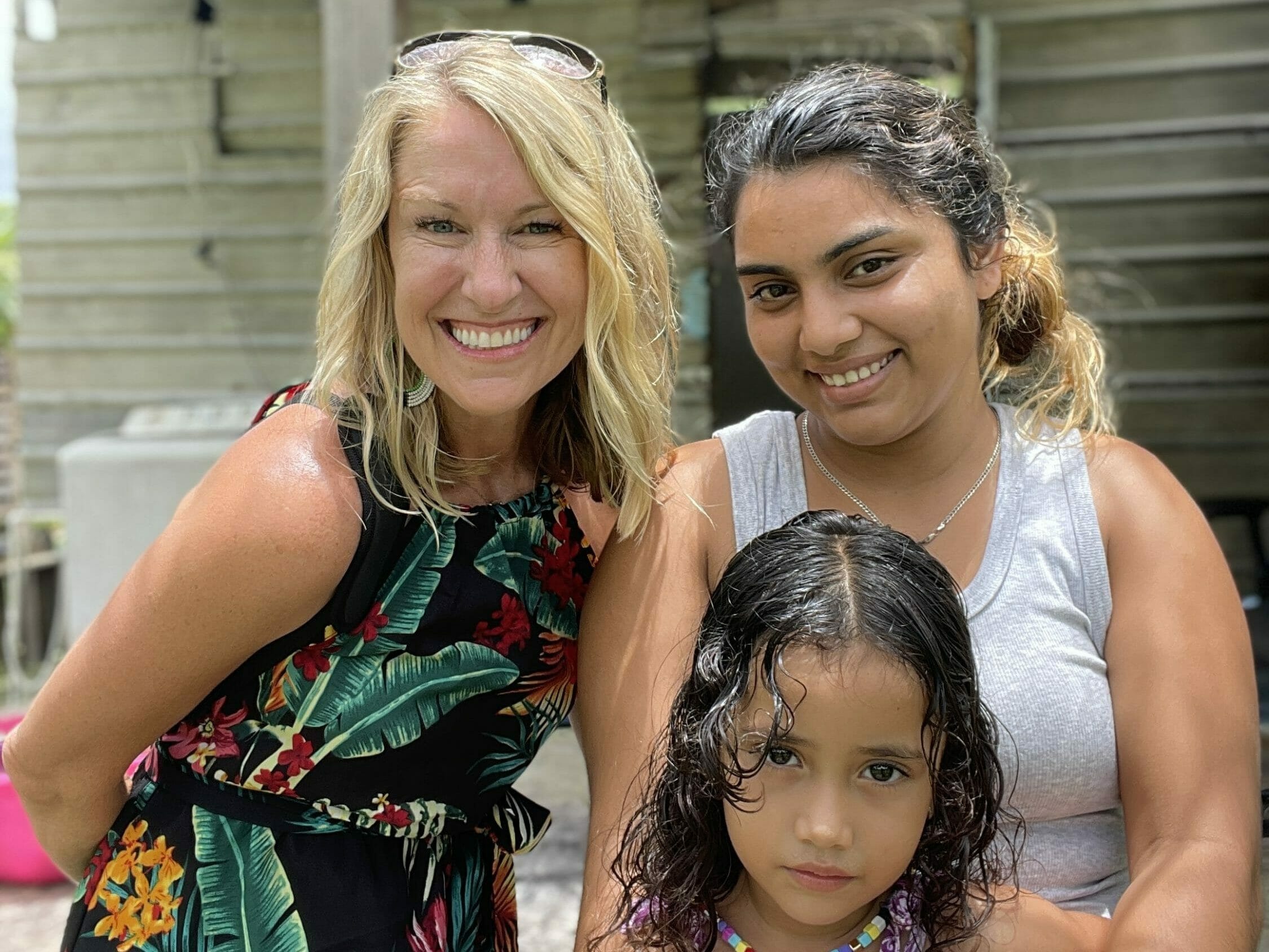 These connections and relationships are what I travel for. As much as I love any planned excursion, it's the unplanned connections that I truly cherish. This is one of my favorite moments of our trip. We have in common our love of food, learning about the world we live in, hope for our children, and a desire to be loved. (Erica and her husband met on Facebook!) Some things are the same everywhere you go!

I asked Erica jokingly, "Have any other people staying at the airbnb invited themselves to dinner at your house?"

"No", Erica replied, laughing shyly, "you are the first." Lucky us.