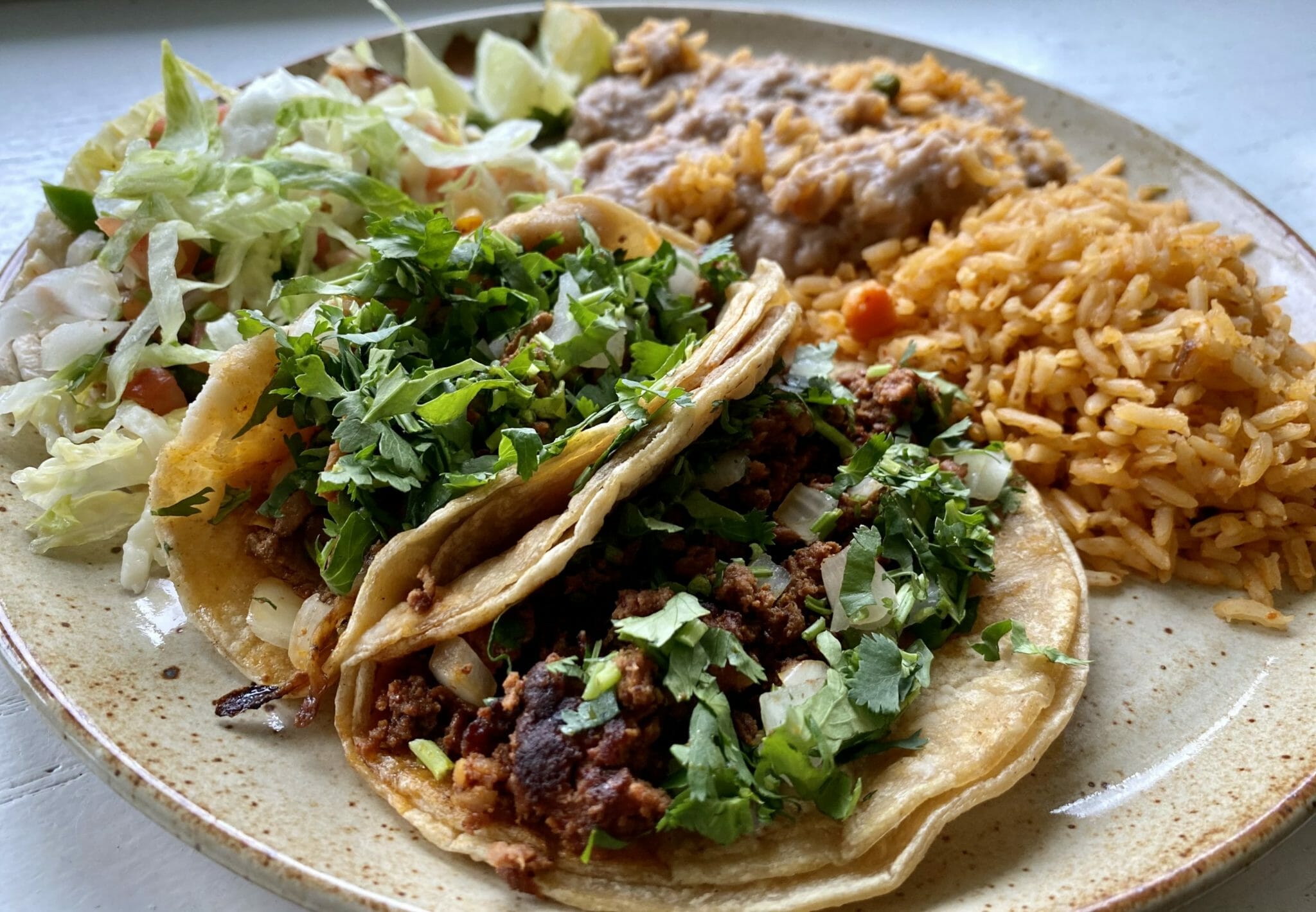 10 More Favorite Taco Spots in Madison, WI
We know how much you love tacos, so we wanted to share a few more of our favorite taco spots in Madison, WI for your Taco Tuesdays or any day. Here are TEN more favorite spots for tacos! And also some great not taco options:) Have you tried any of these ten taco (and not taco) spots in the Madison, WI area? Check out other great taco spots in Madison in our first taco blog, here.
Chef David Rodriguez of Melted opened his first brick and mortar in the spring of 2021 in the former location of Underground Butcher. The gorgeous interior remodel complete with a hand painted mural from artist Liubov Szwako (Triangulador) and handmade pottery accents the quality of food you'll find. The products are sourced locally, and sustainable (even the fish is from Sitka) and the bakery is made at his own catering kitchen. Try the mango pork tacos for a delicious bite or the breakfast burrito stuffed with eggs and chorizo (pictures here) with a side of really good coffee for a not taco option.
1033 South Park St Madison, WI 53715
(608) 250-1824
Open for over 10 years, Taqueria Guadalajara is a staple for Mexican food on the south side of Madison. A small restaurant located on Park Street, Taqueria Guadalajara is most known for their tacos, of course! Our favorites are the tacos al pastor (marinated pork) and – perhaps for the more adventurous eater – tacos de lengua (beef tongue). But their menu is expansive with lots of non-taco options, too! We recommend trying the huarache: corn dough masa topped with deliciously seasoned meat, salsa, vegetables, and refried beans!
2010 S Park St Madison, WI 53713
(608) 280-8898
Another mainstay in Madison and also located on South Park St. is El Pastor. This restaurant has been serving up traditional Mexican cuisine since 1998! While you can't go wrong with their namesake–tacos al pastor (pork marinated in sweet and sour chili peppers)– don't forget to check out their chorizo sausage tacos. If you're looking for something not tacos, their enchiladas verdes are a great choice! Also, they make their tortillas fresh daily!
Migrants is one of the best spots to get creative tacos, including vegetarian and vegan tacos. Try the chicken tinga or the duck taco, with delicious, shredded meats, seasoned well with fresh toppings. For vegetarian offerings I love the chorizo spiced quinoa taco or the roasted cauliflower taco. Tortillas are made IN HOUSE and many products are sourced locally. And there's a salsa bar for every palate!
121 East Main Street Madison, WI 53703
(608) 665-3031
Señor Machetes, just off of the Capitol Square, specializes in the Mexican street food dish known as the machete. The machete is like an elongated taco or quesadilla: the house made tortilla comes in three sizes (9 inches, 16 inches, or 22 inches) and is filled with Oaxaca cheese, pico de gallo, pickled onion, and meat or veggies of your choice! Their street tacos are seriously good too! As with many street tacos you'd find in Mexico, these tacos are deceptively simple – your choice of meat with onion and cilantro – but you won't regret trying them!
1900 Cayuga Street Middleton, WI 53562
(608) 203-8332
Compadres is a restaurant and bar in Middleton, serving a wide range of Mexican food including tacos, sopes, molcajete, and ceviche. The steak, pastor, and chicken tacos all were delicious, but the carne asada steak really stood out! For a not-taco option, try the enchiladas with their house-made mole sauce.
Lupe's
6719 Frank Lloyd Wright Blvd Middleton, WI 53562
Casual counter service taqueria, with delicious homemade options. For spice lovers don't miss the spicy pork — tender pieces of pork marinated in spices with a little kick of heat. The shredded beef and slow cooked chicken are equally savory. Order at the counter and choose your toppings and salsa – I like the spicy salsa with the pork and green salsa and crema with the chicken. Don't forget the house made horchata to wash it all down.
610 Junction Rd Madison, WI 53717 – (608) 203-9222
2808 Prairie Lakes Dr, Sun Prairie, WI 53590- (608) 478-1999
Gloria's Mexican Restaurant has been cooking delicious traditional Mexican food on Madison's far west side since 2017. Their second location in Sun Prairie, which opened in July 2020, still serves the same great menu – just with a lot more space. Locally owned and operated by the Ugalde family, Gloria's takes great pride in their margaritas and we loved their shrimp tacos! The huarache is a great alternative if you're looking for something other than tacos!
Tapatio's, located in Fitchburg, offers a delicious selection of tacos, and great cocktails, too! You can even get a single serve cocktail to go (WHAT??). Try the traditional margarita with tequila gold, triple sec, fresh lime, served on the rocks. The Tapatio taco is a winner and features your choice of meat, topped with melted cheese, beans, pico de gallo and avocado. The menu is extensive and includes items like barbacoa and beans, and tortas. You can't go wrong and will need to go more than once!
2500 Rimrock Rd Madison, WI 53713
(608) 285-9230
Finca is known for serving fair trade coffee purchased directly from farmers in El Salvador, as well as serving delicious tacos and other El Salvadorian treats. Try the chicken taco loaded with delicious marinated and seared chicken pieces, topped with sour cream and shredded cheese. Don't miss the bean and cheese pupusa, a handmade corn tortilla stuffed with beans and cheese, then pan fried and topped with pickled cabbage and salsa. Yum! The El Salvadoran quesadilla is a sweet custardy treat unlike the quesadillas we are used to.