The 11 Best Taco Places in Madison, WI
Whether you love a classic al pastor taco, a crispy fish taco with slaw, or an overstuffed taco loaded with guacamole, salsa and sour cream, tacos hold universal appeal. Some taco fans prefer soft flour shells while others love the hardiness of a stone ground corn tortilla. Maybe you like your tacos topped simply with cilantro, onion and a squeeze of lime while others go for a more innovative ingredients – kimchi or lentils in your tacos anyone?  Madison has a great selection of taco places for every taco craving. Here's a round up of eleven (11) of the best taco places in and around Madison, WI to share with you – just in time for Taco Tuesday!
El Sabor de Puebla
Cost: $
Location: East
305 N 4th Street
Madison, WI 53704
El Sabor de Puebla serves some of the most authentic Mexican tacos in Madison. Known for their classic al pastor and carne asada tacos, this is a great spot for delicious, flavorful, authentic tacos at affordable prices. Service is always quick and while both takeout and dining in are popular, if you decide to dine in, you can also enjoy their cozy atmosphere and warm, colorful decor! Fun fact: the chef's brother is an organic farmer in Madison and much of their produce during the spring and summer comes from his farm!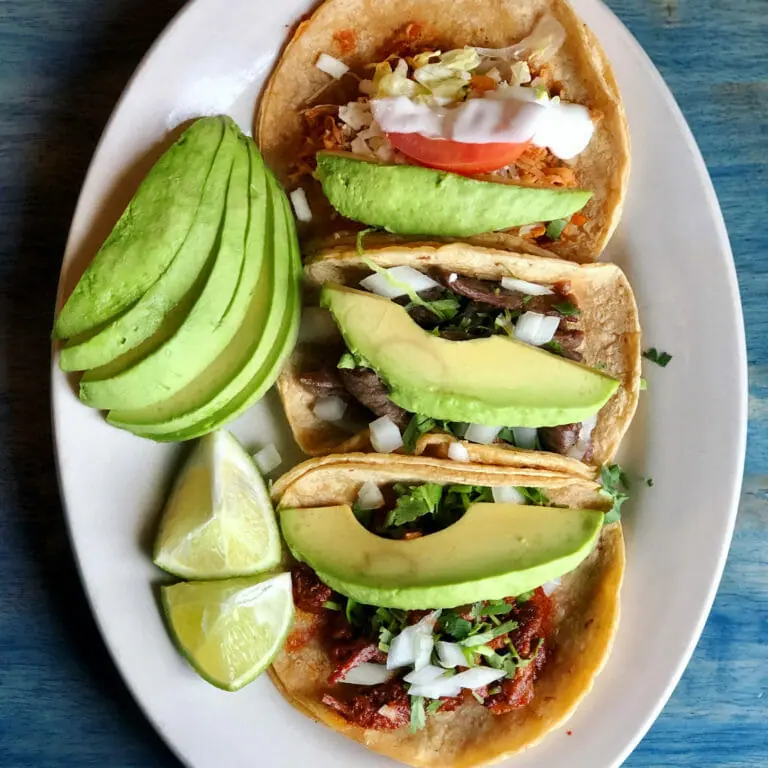 Abarrotes El Primo in Sun Prairie
Cost: $
Location:  Sun Prairie
105 E Main Street
Sun Prairie, WI 53590
Part Mexican grocery store, part amazing taqueria, Abarrotes El Primo located in Sun Prairie, just north east of Madison, is quite the hidden gem. Their simple menu of classic Mexican tacos is a no frills, authentic taco experience. The tripe and barbacoa are both incredible! Make sure to come hungry as portion sizes will definitely fill you up. They're also known for their delicious tortas if you're hankering to try some other authentic Mexican classics!
Enrique's Market
Cost: $
Location: North
1417 Northport Drive
Madison, WI 53704
Another charming little market in Madison, Enrique's is located on Madison's north side and serves delicious, authentic tacos with fresh, homemade salsas. The food is inexpensive and service is quick so it's the perfect spot for a weekend treat! Don't leave without their amazing fresh tamales which you can eat in store or buy to take home with you as well as some staples – queso fresco, avocados and limes, perhaps?
Mercado Marimar
Cost: $
Location: South
2102 S Park Street
Madison, WI 53713
Located on Madison's south side, family-owned Mercado Marimar is known for stocking staple products of Mexican cooking and for the authentic food served in its small restaurant. Mercado Marimar's best kept secret? Fresh, house-made corn tortillas that you can pick up for your own taco-making adventures! You can also find them on Library Mall in downtown Madison in their food truck, Taquitos Marimar. These homemade, authentic tacos are just like what we enjoy on our small group culinary tour to Mexico!
Want to learn more about Mercado Marimar? Check out our feature of Mercado Marimar from 2016!
La Mestiza
Cost: $$
Location: West
6644 Odana Road
Madison, WI 53719
La Mestiza is another great spot known for its authentic Mexican cuisine and delicious mole sauce. Stop by this cozy, welcoming restaurant on Madison's west side for their lunch specials or order a trio de tacos to try a variety of different tacos offered on their menu. Their fish tacos and guacamole are particularly delicious! Plus, their chips are delicious, freshly-made and come with both a spicy chipotle salsa and a salsa verde!
Ohio Tavern
Cost: $$
Location: East
224 Ohio Avenue
Madison, WI 53704
Ohio Tavern is the spot for both a great local hangout and amazing tacos. Live music events and karaoke are aplenty and tacos are served until midnight. Their menu of tacos features a variety of different ingredient combinations that pack a unique punch of flavor. Be sure to try out one of our favorites – the old boy – which combines kimchi, bacon, and charred scallion dressing–yum! A side of street corn hits the spot.
El Poblano
Cost: $
Location: East
3737 Milwaukee Street
Madison, WI 53714
Permanently CLOSED
Bartaco
Cost: $$
Location: West
464 N Midvale Blvd
Madison, WI 53705
New-to-Madison, Bartaco is a fun, beach-themed chain originally from Connecticut. It offers street style bite-sized tacos as well as a whole section of "not taco" menu items in case you're more in the mood for a churro or tuna poke bowl! Bartaco's unique service style, ticking boxes on an order card, is in line with its unique tacos that often feature non-traditional taco ingredients like falafel, swordfish, and duck.
Eldorado Grill 
Cost: $$
Location: Near East
744 Williamson Street
Madison, WI 53704
TEMPORARILY CLOSED
Cost: $
Location: West
6713 Odana Rd, Suite 8
Madison, WI 53719
Tucked in the back of the newly remodeled Latin grocery store is an incredible family-run restaurant, featuring tacos, tortas, and many other Mexican staples. Try the campechano tacos with a mix of beef and chorizo, or the sopes, topped with meat, beans, lettuce onion and huge avocado slices. Don't forget to pick up their perfectly ripe avocados and mangos on your way out!
Tex Tubb's Taco Palace
Cost: $$
Location: East
2009 Atwood Ave
Madison, WI 53704
Located in Madison's beautiful Atwood neighborhood, Tex Tubb's has a huge selection of tacos to choose from. They offer classics like carne asada, out of the box options like smoked brisket and green chile chicken (served with the classic margarita on our Atwood Brew & Chew tour!). Vegetarians will be very satisfied with options like fried cauliflower, bbq jackfruit, and sweet potato and black bean tacos! Not sure which taco to pick? Try a taco platter so you can sample a little bit of everything this Tex-Mex restaurant has to offer. The classic margarita made with fresh lime juice, is the perfect companion. 
By Pamela Gu and Otehlia Cassidy
Published on Apr 23 2019
Last Updated on Jul 06 2021
Categories: Dining, Food Events, Food Tour, Local Food Producers, Madison WI, Mexican, Mexico Culinary Tour, Restaurants, tacos, Things to Do
Tags: best tacos, madison wi tacos, mexican food, taco tuesday, tacos