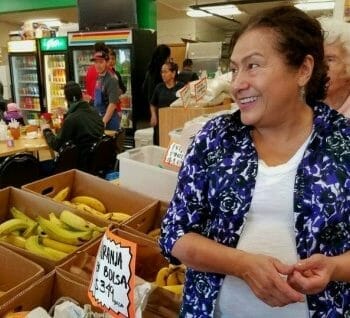 Mercado Marimar Serves Delicious Mexican Food
Maria Garcia came to Madison when she was just 17 years old. She had been in the U.S. just 2 years, living in Laredo, Texas, working as a nanny for $17/week, never thinking she would one day own a successful Mexican grocery store and small restaurant on Madison's south side.
She had left her home town of San Luis Potosí, in central Mexico, when she was just 15. Her parents knew her choices were limited. "In my village, girls were robbed. The man who wanted her would take her, use her and she couldn't return to her village. Twice, my parents were told that someone was going to rob me."
Maria certainly did not want to be kidnapped from her home, but she admits she had other reasons for wanting to come the US as well. "We had plenty of food. But I dreamed of having new clothes and shoes," she says, things most teenage girls want. She set off on a train to the border, and walked across. In those days, she says, it wasn't so hard to cross back and forth.
After 2 years in Laredo, a friend of hers told her that they could make more money in Wisconsin, so they headed north. She started working making salads in a restaurant for $1.90/hour. "We made more money in one day than we had in a whole week." Fast forward a few years. Maria meets her partner Martin, they raise 4 kids, open a clothing store, and finally 15 years ago open Mercado Marimar, which sells Mexican food and groceries. Marimar is named after Maria and Martin who co-own the shop. Their food cart Taquitos Marimar can be found on Library Mall.
Marimar is a wonderful store, a hidden gem on Madison's south side. Maria showed us around during a recent Ethnic Market tour. Shelves are packed with dried and canned beans, jars of pickled and preserved fruits, sauces, condiments, salsas, and baking products. Chips, fresh cheese and dried peppers. But the real gems are the butcher counter with ready-to-cook marinated pork, chicken fajita, housemade chorizo, fried pork skin, and Maria's favorite, lengua (tongue) which she suggests simply baking. The produce area features staples of Mexican cooking – cactus pads, avocados, tomatillos, plantains, cilantro, limes, and papaya (great for making agua fresca). A small restaurant is set into the store, with lines forming for the carnitas (slow cooked pork) on weekends. The food is fresh made, authentic and delicious. Try the savory menudo (tripe soup) or hot, fluffy tamales stuffed with cheese and onion or pork. Pick up some fresh corn tortillas made in house – one of the best kept secrets in Madison!
In creating a better life for herself and her children, Maria and Martin have enriched our lives, sharing the richness of Mexican food and culture.
Mercado Marimar
2102 S Park St.
Madison, WI 53713
608-260-8928