Top 10 things to do in the Fall in Madison WI
From fall foliage to festivals, Madison has it all
Fall is upon us and as the season changes I'm reminded once again why I love Madison. There are so many ways to enjoy the changing seasons, and here in Wisconsin we know how to make the absolute most of every moment. Here is a list of 10 top things to do in the fall in and around Madison, WI. From enjoying the glorious fall colors to eating on any one of the heated patios around the city, there's lots to do! What will you try first?
Top 10 things to do in the fall in Madison, WI
Arboretum
1207 Seminole Hwy, Madison, WI 53711
(608) 263-7888
Cost: Free
With 17 miles of beautiful trails, the Arboretum in Madison is a must-visit this fall. Officially founded in 1932, the Arboretum was intended as a "wildlife sanctuary, experimental forest preserve, protected area for sacred Native American sites, place to experiment with re-establishing historical Wisconsin landscapes, and provide refuge from the city." To this day, it has become an incredible source of knowledge and a model for ecological restoration, in addition to being a place for guests and locals alike to explore nature and escape the noise of the city. Not only can guests hike or bike the trails, the Arboretum also offers classes and guided nature hikes. So stop by the visitor center and pick up a trail map or just enjoy wandering and get lost in the beautiful scenery.
Watching the beauty of the leaves change in the fall is special, but don't miss out on the beauty of the Arboretum in the winter months as well!
2. Apple Picking at Eplegaarden
2227 Fitchburg Rd, Fitchburg, WI 53575
(608) 845-5966
Cost: Free-$$
Apple picking is the perfect way to spend a day outside, taking in the beautiful Wisconsin fall foliage and enjoying delicious treats. There are lots of great places around the Madison area to pick-your-own apples, but a favorite of ours is Eplegaarden! Eplegaarden has been around since the late 1980s when Vern and Betty Forest bought the farm and began planting thousands of apple trees. Now, it is a destination where guests pick apples to their heart's content, enjoy a glass of warm apple cider, and they can even pick up a pumpkin while they're at it! Just grab a cart and peruse the orchard on a beautiful sunny day. And don't forget to buy a cider donut (or a few), they are worth the trip out to the farm alone!
Bonus: if you need recipes for all those apples you just picked check out our 5 Great Uses for Apple Cider post or our Butternut Soup with Apple Confit recipe.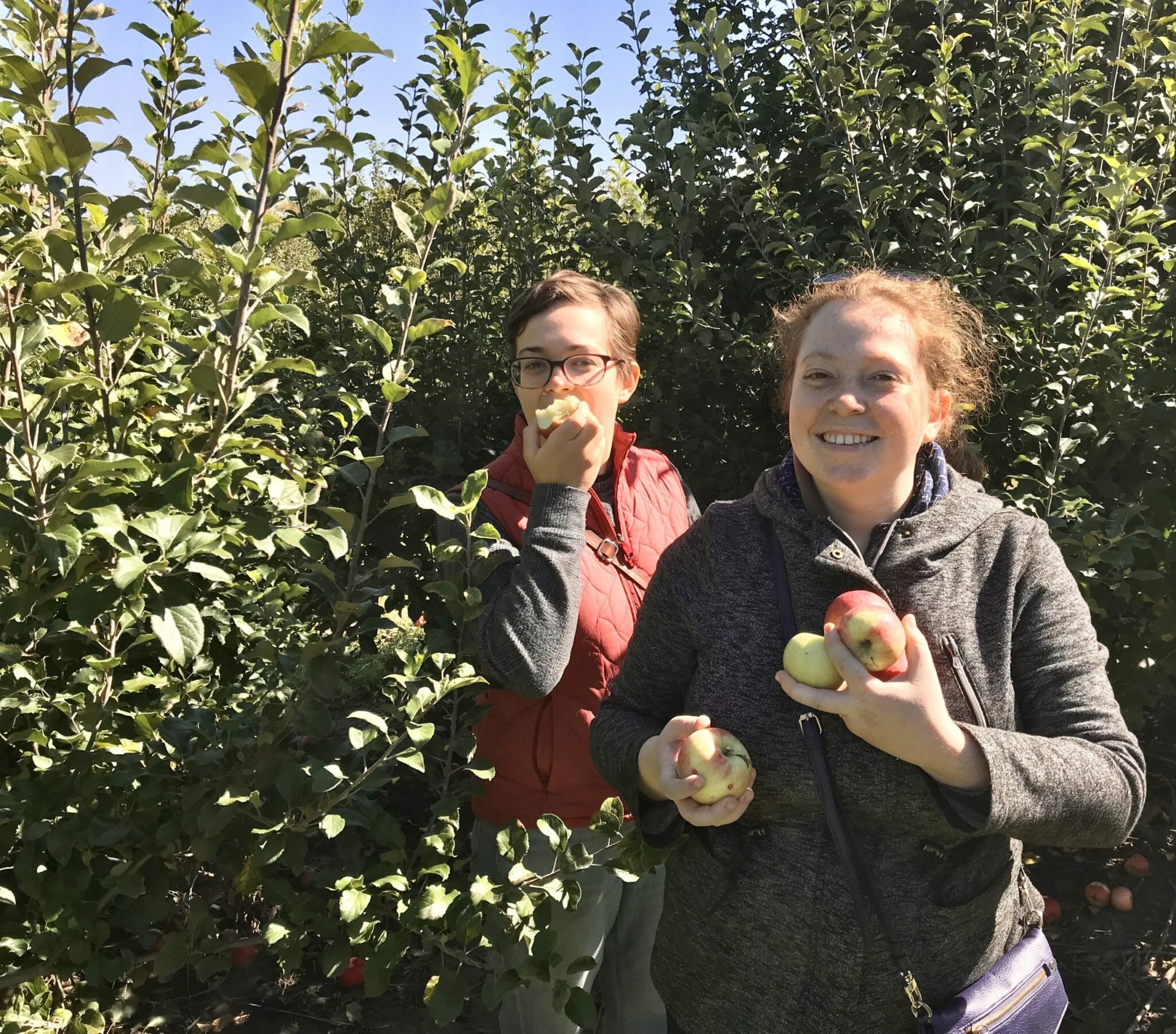 3. Corn Maze
Treinen Farm
W12420 WI Trunk 60
Lodi, WI 53555
Cost: $$
Treinen Farm was recently featured in USA Today as one of the country's best corn mazes – and with good reason! Each year, this family-run farm goes all out designing an intricate and beautiful corn maze around a new theme. With multiple levels of difficulty to choose from, exploring the corn maze becomes fun for all! Other activities at the 200-acre farm include the pumpkin patch, a playground area for kids, and hiking trails. Purchasing tickets in advance is recommended to ensure entry.
4. Outdoor Dining
Cost: $-$$$$
Fall food is the BEST food. Crisp apples, comforting soups and stews, pumpkin-flavored everything, and more! Not too warm and not too cool, fall is also the best time of year to enjoy outdoor dining. Many restaurants around Madison provide heating on their patios, too! Check out the heated outdoor dining at Harmony on Atwood Avenue, Everly on Monroe Street, or Lucille on the Capitol Square! If you've got a sweet tooth, you can even have ice cream by the fire pit at Chocolate Shoppe on Atwood.
5. Lake Loop Fall Foliage Bike Ride
Cost: Free
Map of the Lake Loop: https://www.mapmyride.com/routes/view/2363435
The Lake Loop is one of the most popular bike routes in and around Madison. The Lake Loop route will take you around Lake Monona and wind you through some of Madison and Monona lakefront neighborhoods and parks. Enjoy the changing seasons on the tree-lined streets and trails you will bike through. Bring your own bike or rent out a BCycle (www.bcycle.com) to check out this 12 mile route around one of Madison's lakes.
Short list of parks to drop by on your Lake Loop Ride:
BB Clark Park
Orton Park
Olbrich Biergarden
Yahara Place Park
Monona Terrace
Schluter Beach
Olin Park
6. Madison Eats Food Tours
Cost: $69 and up
Website: https://madisoneatsfoodtours.com
Location: Downtown Madison and Atwood neighborhood
Enjoy a guided walking tour of either downtown Madison or the historical Atwood neighborhood (coming soon). Each tour is about 1.5-2 miles round trip and lasts 3 hours. Listen to featured historical information about the respective area as well as enjoy delicious food samples from various restaurants! The tours are guided by local food ambassadors that also provide background information about different spots and entertain with interesting stories so the time flies by. The downtown tour also highlights the breathtaking Madison capitol building with a 360 degree view of the Madison skyline from the outdoor observation deck.
7. Dane County Farmers Market
Cost: free to attend – ($-$$$ to buy products)
Website: https://dcfm.org
Location: Saturdays on Capitol Square and Wednesdays MLK Drive April through November (check website for dates)
Visit the Dane County Farmers market to explore the largest producer-only farmers' market in the country. This means the people or farmers selling the products are the ones who produced it with no middle person in between. Some of the many products include seasonal produce, cured meats, fresh cheese, delicious bakery goods, and even beeswax candles–all from Wisconsin! When the weather turns colder after January 8th the Dane County Farmers' Market moves indoors to Garver Feed Mill at 3241 Garver Green for the same farmer market experience but warmer.
8. Garver Feed Mill
3241 Garver Green
$-$$$
Garver Feed Mill is a wonderful place to visit for a bite to eat or a full day experience. The historic grain mill underwent extensive renovations in 2019 to become one of the most beautiful public spaces in Madison. Stop by and grab a slice of pizza and a beer from Ian's pizza and sit on the patio with friends, or stay for the day – take in a spa treatment at Kosa and then relax with a cocktail at the bar (it's all about balance, right?). Be sure to check out Garver Events for special events as well, such as live music, dance classes, cocktail classes and more!
9. Willy Street Fair
Free
Annually, late September
https://www.facebook.com/willystreetfair/
You haven't experienced the real Madison until you've been to the Willy Street Fair which takes place every September. Willy Street is known as a more "eclectic" neighborhood and all people and pets on leashes are welcome! Enjoy two days of live music, food, street vendors and a parade on Sunday! The parade is absolutely one of the best in Madison, and you will certainly love the bubble mobile and the stilt walkers and well as the Brazilian percussion group. It's a window into the diversity of Madison! The food vendors include Willy Street regulars like Lao Laan Xang, and diverse cuisines such as Just Veggiez and Mishqui Peruvian cuisine.
10. Fall sporting events! Wisconsin Badgers Football Game/Ironman Wisconsin
Wisconsin Badgers Football Game
Cost of football tickets: $$-$$$
Website: https://uwbadgers.com/sports/football/schedule/2021
Badger fans are back 'jumping around' in Camp Randall stadium to cheer on the Wisconsin Badgers football team. Make sure to check out some of the local pre- and post-game food choices around Camp Randall on Regent (Jordan's Big 10 Pub- https://big10pub.com/) and Monroe Streets (Mickie's Dairy Bar- https://mickiesdairybar.com/#/). Don't forget to wear your red!
Ironman Wisconsin
Website: https://www.ironman.com/im-wisconsin
Cost: Free to watch-$$$$ (to participate)
Ironman Wisconsin features over 2,500 of the world's best endurance athletes. Participate or watch as participants swim, bike, and run to the finish line, around some of Madison's landmarks and neighborhoods.
Lake Monona, Lake Mendota, Monona Terrace, Capitol Square, and the UW-Madison Campus.