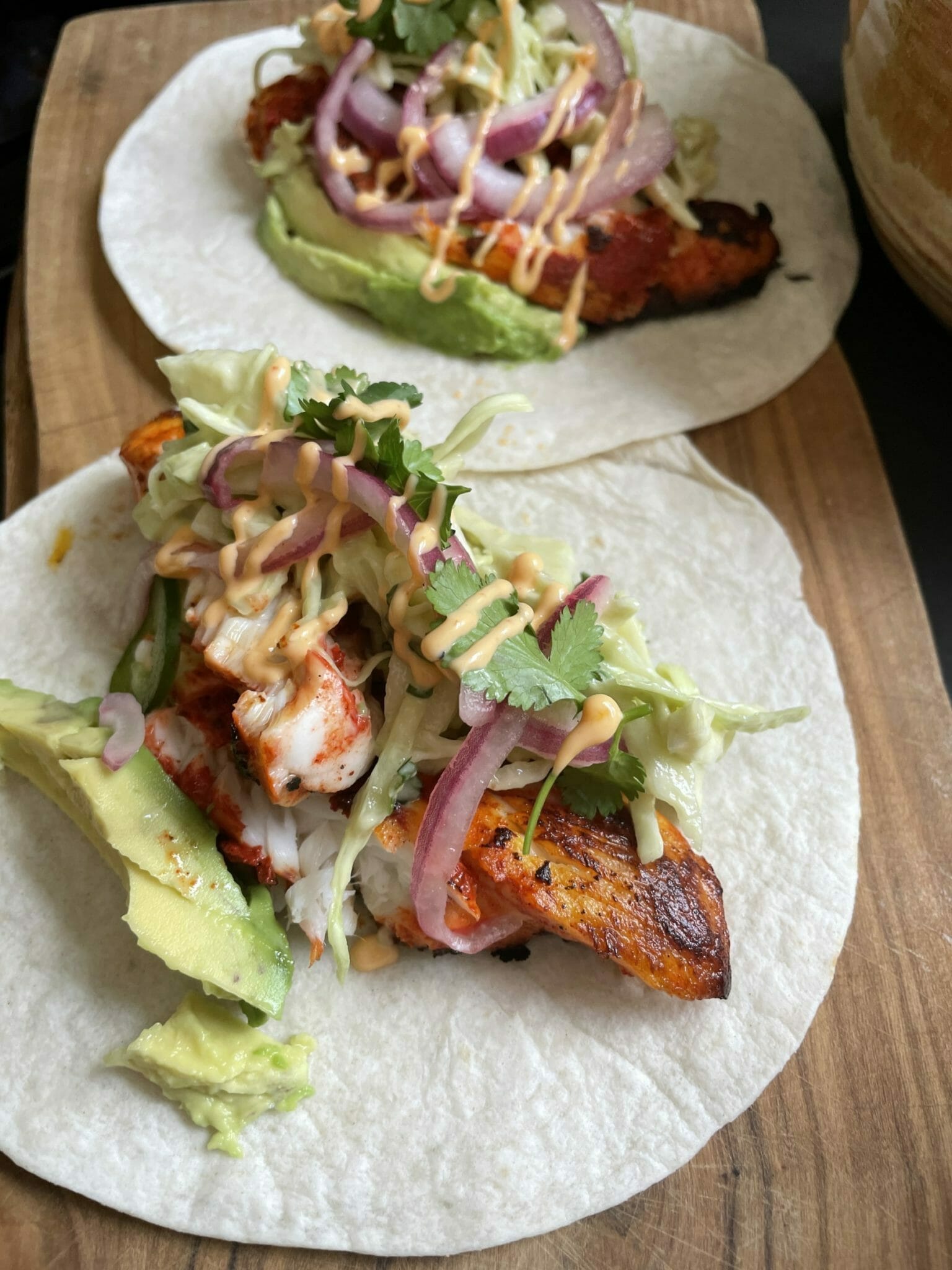 RECIPE: Mayan Style Fish Tacos
TIK N XIC (Mayan Style Fish) Tacos – serves 2-4
This is one of my very favorite ways to make fish for tacos! Tik n Xic, or Mayan style fish use simple and flavorful ingredients and boast a beautiful color as well. Tik n Xic is perfect for fish tacos. I learned this method while leading culinary vacations in the Yucatan. Join us on our next trip to Mexico and learn for yourself!


Ingredients:
1 pound trout, tilapia or cod, or other firm white fish
1 tbsp achiote paste* (*find at Latin market, also called annatto paste. The paste is preferred but if you can only find it in powder form, that's ok too)
Juice from 1 orange
Juice from 1 lime
3 clove garlic, crushed or diced finely
1-2 tsp salt
6 flour or corn tortillas
Garnish: avocado, cilantro, queso fresco (optiponal), pickled onions (recipe below) and spicy mayo
Spicy Mayo:
1/2 cup mayo
1 tbsp adobo sauce from canned chipotle (can use sriracha too)
Method:
Mix the achiote paste, orange juice, lime juice, garlic and salt. It should be liquidy but not too watery. Rub fish with the mix and set aside in fridge for about 20 minutes or you can cook right away. When ready to cook, heat about 3 tbsp oil in skillet, fry skin side down for about 5 minutes. Add some of the marinade to the top of the fish and then flip and finish cooking about 5 more minutes, or so until done. You can add the remainder of the marinade to the pan just as the fish is almost done cooking and let it cook down for extra flavor. You can grill this if you prefer. Mix mayo with adobo and drizzle on the fish! Top with cilantro, pickled onions, a slaw and fresh cheese (optional)
EASY PICKLED ONIONS
Ingredients:
1 red onion, finely sliced
Juice of 1-2 lime
1 sliced Jalapeno, seeds removed (optional)
Salt
Method:
Slice red onions and jalapeno and cover with lime juice and sprinkle generously with salt. Let these sit while you prepare the rest of the food. My fave way to quick pickle onions!
Published on Jun 16 2021
Last Updated on Oct 11 2021
Categories: Cuba Travel