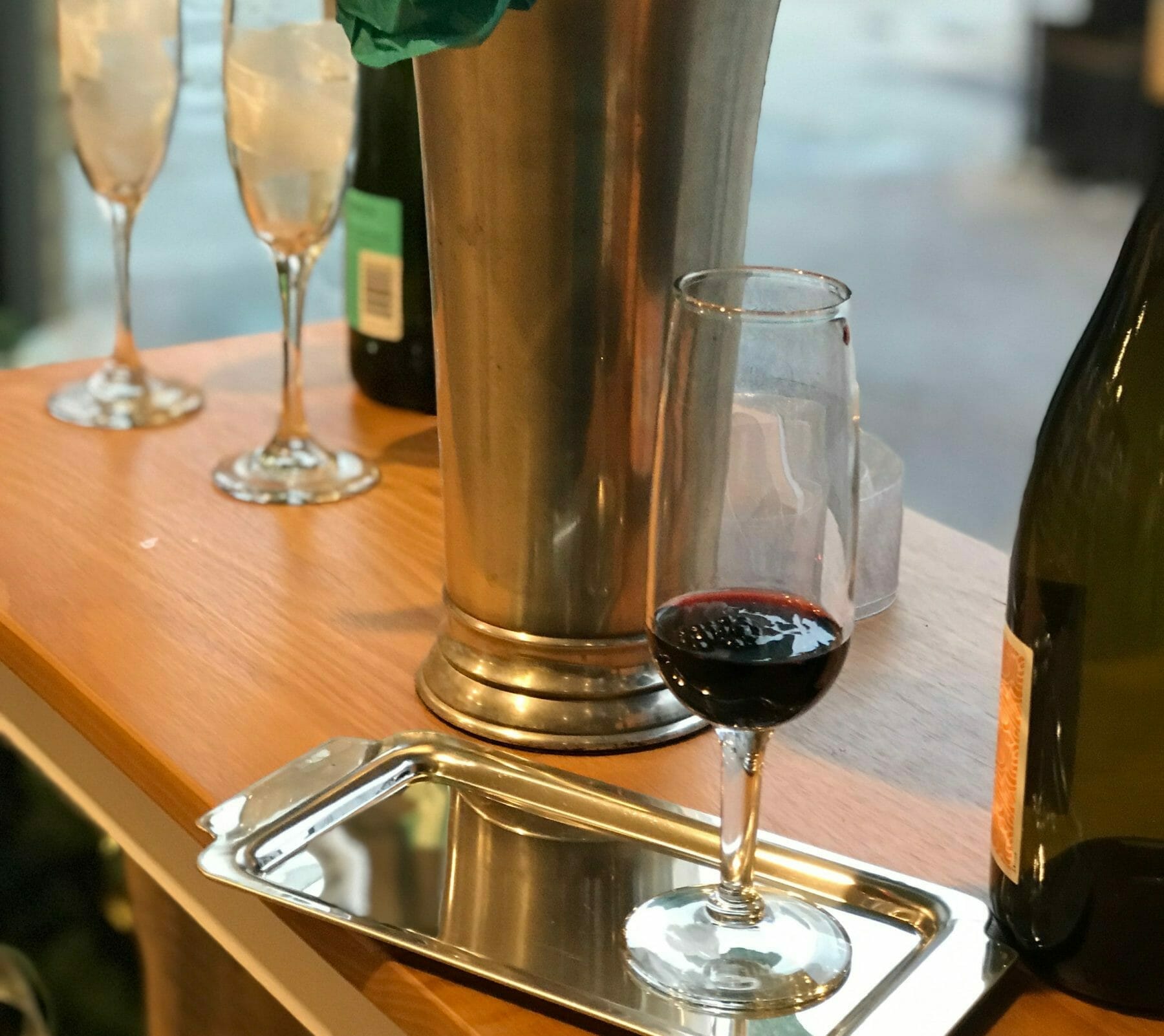 Kir and Kir Royale- The Iconic French Cocktail
Kir and Kir Royale – Perfect cocktails for the holidays
Written by Jenina Mella for Madison Eats Food Tours
Maybe it's my age, but I find myself looking back at my childhood food memories a lot. I grew up in a family of foodies, before that was even a thing, so I have a lot of memories to draw on when I'm looking to spice up my holiday entertaining.
Sourcing Creme de Cassis
Since Vom Fass in Madison is a local partner on our Madison Eats Food Tours Capitol Square Downtown Tour, visits there stimulated my memories after sampling their lovely Créme de Cassis, or Blackcurrant Liqueur.  That taste naturally brought me right back to the Kir cocktail. I was soon wrapping up a bottle of Cassis from Vom Fass, and began presenting it at our Winter holiday celebrations. It was a big hit with all my guests! The way Vom Fass packages it's liqueurs and spirits (with the help of their partner, Yahara Bay Distillery) makes it a very alluring thing to put out on your holiday drinks table. Everyone is immediately drawn to it!
History of the kir cocktail
When I was growing up, my familiarity with this French classic cocktail, was as a "Ladies" cocktail; something I would see my mother and other elegant women order as an aperitif during fancy dinners out. The Kir actually has ties to the World War II French resistance in the Burgundy region, and is named after a Catholic Priest who began mixing the locally-produced Cassis with the local white Aligoté wine to simulate the Burgundy wine confiscated by the Nazi's during the French occupation. The City of Dijon eventually adopted the drink as it's official cocktail.  Use champagne as the mixer to create Kir Royale, the more festive version.
Kir on your holiday table
Use Créme de Cassis as an inspiration for your holiday drinks table, and make it simple on yourself as a host. Arrange a small table with a couple of ice buckets, wine glasses, a bottle of Cassis, and a shot glass for measuring. Write out instructions for your guests to follow, and let them join in the fun by mixing their own cocktails.  Offer bottles of bubbly wine (champagne, Spanish Cava or Italian Prosecco all work well) and a dry white wine, such as a Sauvignion Blanc. Also, it's a lovely holiday touch to offer fresh whole blackberries or raspberries as a festive garnish.  
Have red wine lovers on your guest list? Add a bottle or two of a dry red wine to the table and let them mix the red wine version of the Kir–The Cardinal Cocktail.
Easy kir recipe
Kir/Kir Royale/Cardinal Cocktails
½ oz créme de cassis liqueur

4-6 oz dry white wine such as sauvignon blanc, or bubbly wine to top off glass

Fresh Raspberries or Blackberries to garnis.
Add a raspberry or blackberry to a champagne or wine glass. Add créme de cassis, then top off with wine (white or red) or champagne.
Published on Nov 25 2019
Last Updated on Jun 25 2021
Categories: Cuba Travel