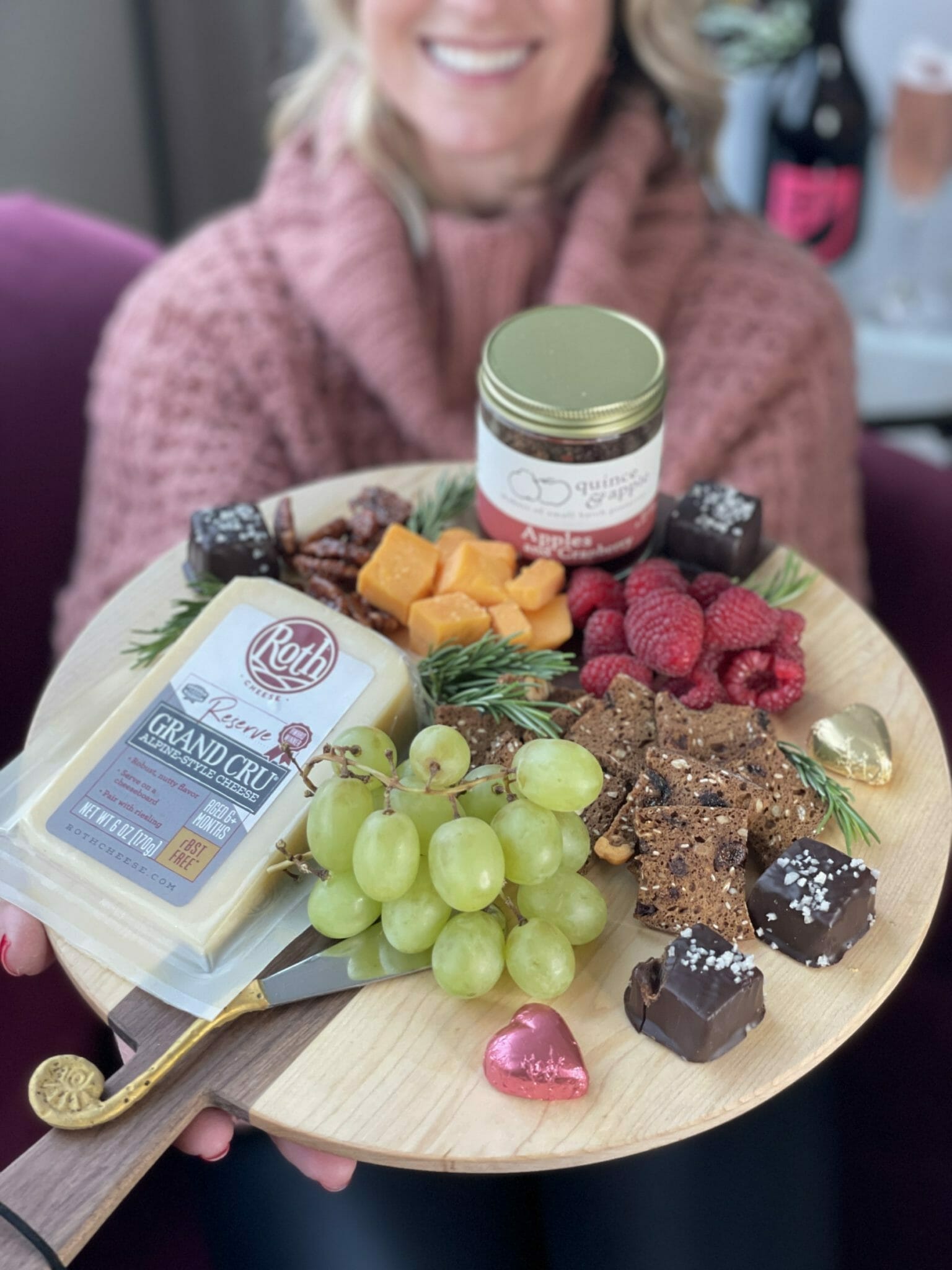 How to Make a Cheese or Appetizer Board
Who doesn't love a cheese board or appetizer board? In fact, I love food-on-a-board, period. Serving cheese or any food on a board is a fun way to spice up your serving style, make it beautiful and easy to serve. I consider both patterns and themes when designing a cheese or appetizer board. Are there a variety of colors (flavors) and items? Do the paired items make sense? You don't have to stick with just cheese – try a brunch board, a DIY sandwich board or a dessert board. The sky's the limit!
Here are some tips for serving food on boards.
Cheese or Charcuterie Boards
:
There are so many options when it comes to cheese or charcuterie boards. 
Select your product:
When designing a cheese board the focal point is the cheese. Start with at least 3 cheeses and get a variety of flavors and textures and milk types. I love to combine a sharp cheddar, and aged sheep milk cheese and a soft goat cheese for example. You could add a brie or blue cheese.

Next, if you are adding meats, think the same way – add hard sausages as well as sliced salami or prosciutto.

Next add the starch – a few different crackers or sliced baguette will do nicely

Finally think about the other products that would compliment the cheeses and meats; fruits (fresh and dried), nuts, mustard, pickled vegetables, jams. Try a few and see what you like!
Design your Board
Start with your crackers and lay them on one side of the board. Group items together and alternate colors and textures. Try placing crackers in a small dish or just lay them out on the board. 

Try cutting the cheese in different ways – cube some, slice some and lay it neatly on the board with toothpicks. PLEASE NOTE: cheese with a rind that is cut from a wheel is meant to be cut in slices from the rind to the center to get the entire flavor of the cheese. Packaged cheeses in blocks, such as colby or cheddars that do not have a rind do not need to be cut that way. Try cutting the cheese in different ways – cube some, slice some and lay it neatly on the board with toothpicks. Lay the cheese out on different parts of the board. Soft cheeses do great on a small plate with a knife.

If you are adding meats, roll them or make a salami "rose" – see the how to video here.

Fill in the other areas with nuts and fruits. I like to think of making shapes you see in nature: ponds of dried fruit, paths of nuts, piles of grass. Have fun!
Other Food on Boards:
Brunch Board:
I love making a brunch board for my family on a lazy weekend morning. I get fresh bagels, and cut them in quarters, add boiled eggs, bacon, lox and spreads for the bagels. Capers, microgreens and sliced fruit pair perfectly. Or make a huge pile of mini waffles, surround it with fresh fruit or fruit compotes, a bowl of fresh whipped cream and place a small bowl of melted butter and syrup on the board just before serving.
Dessert Board
Stack cookies and little glasses of milk along with squares of lemon bars or brownies and fresh berries in between. Serve with espresso or a nightcap:)
The sky's the limit when it comes to food on boards! What will you create?