Goodman Center and Slow Food Team Up for Weekly Community Meal
Originally printed in Madison Magazine.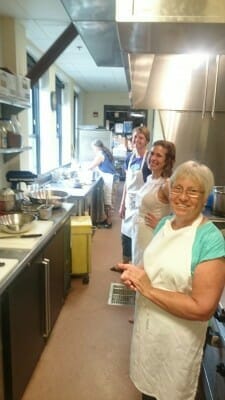 Madison is known for its many noteworthy restaurants, but who could imagine that a community meal at the Goodman Community Center (GCC), using ingredients found in GCC's food pantry and cooked by a small group of volunteers, would become a dining destination?
The Fritz Food Pantry at GCC is open to the community three days a week (see schedule below). On Tuesdays and Wednesdays, hot, healthy meals are prepared and served while the pantry is open. And you do not have to be a panty customer to enjoy the food! Tuesdays, enjoy a light brunch, such as cheesy egg strata or baked French toast. Coffee, fruit and pastries are often available as well. Wednesday evenings, Slow Food Madison coordinates the meal, organizing volunteers, scouring the pantry shelves and shopping for additional ingredients to make a delicious dinner—one that rivals those of some of our great local restaurants.
The Slow Food chapter in Madison was started in 1999 by two local chefs, Tami Lax, current owner of Harvest Restaurant and co-owner of The Old Fashioned, and Leah Caplan, previously Chief Food Officer for Metcalfe's Market. Slow Food Madison has grown since then and offers various events, including an "urban market forage," monthly happy hour, annual Food Camp—and the Wednesday night dinners at GCC.
Considering GCC's focus on providing fresh, local food to pantry customers, a creative collaboration between Slow Food and GCC seems natural. The volunteer chefs have been cooking up incredible meals, from roasted vegetables with aioli, served with beans, greens and turkey bacon, to Mexican dinners, demonstrating the variety of food that can be prepared with food pantry items. Alyssa Henry, a volunteer, explains "One of the goals of the dinner is to encourage people to cook for themselves in a similar way."
Often the pantry will get a last minute donation that becomes part of the meal. This week, for example, two boxes of apples became a side dish; they were sliced and sauteed with agave nectar, fresh orange juice and warm spices. I see a reality show in the making—Slow Food Top Chef, anyone?
The effort is not lost on the community. One of the diners at this week's meal professed that "the volunteers out-do themselves each week." It was, in fact, a feast: generous servings of Thai chicken curry with carrots, broccoli, cilantro and mushrooms were served over rice. The vegetarian option swapped beans for the chicken. A delicious spiced potato dish accompanied the curry, while fruit salad and the poached spiced apples offered a sweet note.
Kathy Utley, Food Security Coordinator at GCC, says that the community meal is "the best kept secret in town." She goes on, "The pantry customers are deeply touched. Sometimes it is even emotional for them. It's obvious that there is a lot of effort to create a great meal and a pleasant dining ambiance." Amy Mach, Food Preservation Coordinator at GCC, mentions that one couple even comes for a weekly date night because it is such a great dining out experience.
Well, the secret's out. Date night or not, enjoying the Slow Food dinner at GCC is just one more way to support our community's effort to provide great food and dining experiences–for everyone.
GCC Fritz Food Pantry hours:
Tuesdays, 9:30 a.m.–noon (brunch served)
Wednesdays, 6:30–8:30 p.m. (dinner served)
Thursdays, 12:30–3 p.m.
For more information on how you can participate, contact Slow Food at info@slowfoodmadison.orgor the GCC Food Pantry through Kathy Utley at 241-1574 x249 or kathy@goodmancenter.org.
Published on Aug 09 2012
Last Updated on Oct 11 2021
Categories: Madison Magazine