9 Great Brunch Spots in Madison, WI
Are you team sweet or savory?
Are you on team savory brunch? Or sweet brunch? No matter your tastes, the best brunch in Madison, Wisconsin is right around the corner. Here are nine (9) Madison restaurants that do brunch right. From egg dishes and French toast to crepes and breakfast sandwiches, you'll find something you love.
TIP: When brunching in Madison, be sure to reserve a table or go early, unless you don't mind a wait. At the most popular spots, there is often a wait starting by 9:30 or 10 a.m.
This breakfast-only eatery was started by Alex Lindenmeyer and Sinead McHugh in 2014, both graduates of Edgewood high school. The business itself strives to be a safe space for everyone in Madison and was named Allied Business of the Year in 2018 by the Wisconsin LGBT Chamber of Commerce. They feature a unique special called The Blind which is a chef's choice menu item that comes out as a surprise (you can ask whether it's sweet or savory). Note: It is not for a picky eater or someone with lots of allergies. Other amazing options that are menu staples include their savory corned beef hash or sweet potatoes pancakes and pecan french toast.
Opened in 2018, this bar and grill on Madison's east side is known for homestyle American cooking and it does not disappoint. This is the perfect hangover brunch: a flavorful sausage breakfast sandwich and country fried steak with delectable gravy. The hash browns are crunchy and golden brown on the outside and buttery soft on the inside.
If you're looking for a classic diner atmosphere, this is your spot. There is both indoor and outdoor seating with daily specials.
This '50s-style diner features all-day breakfast, mouthwatering comfort food, and is open seven days a week! The building itself used to be a gas station in the Atwood neighborhood and was the start of Madison's Food Fight Restaurant Group.
They feature vegan, vegetarian, and gluten-sensitive options such as tofu scramble, banana walnut pancakes, and vegetarian hash. Some great brunch options include French toast, Monty's breakfast sandwich, and the breakfast burrito.
Mickey's is a near eastside staple that features a unique bar setting and a sneaky tasty food menu. It's a great place to enjoy before or after a great night out with friends. They specialize in big portions and bigger drinks.
When you enter Mickey's you are greeted by employees and told to help yourself to their plentiful coffee and tea selection — all you can drink! If you need something stronger than coffee, Mickey's has a $7 pint of mimosa. At most brunch spots, you only get a small flute of mimosa for $7!
Make sure to check out their rotating scramble of the day and benedict of the day. The highlight of any brunch visit to Mickey's is their perfectly fried breakfast potatoes. We highly recommend enjoying your meal on their beautiful patio if weather permits!
Cafe Brittoli is a wonderful cafe on Atwood Avenue. While it's not specifically a brunch spot, it's a great cafe with great food. The crepes are absolutely delicious, made to order and range from sweet or savory.
Try the banana nutella for a classic combo, or the blueberry and lemon curd with a cup of coffee. The spinach crepe is filled with cooked spinach and cheese and hits the spot if you are looking for something savory. In the warmer months, the back patio area is the perfect spot to relax, and sits right along the bike path.
If you love Latin flavors, El Dorado's brunch is for you. It offers an absolutely delicious array of Latin-inspired options, executed perfectly. Try the smoked salmon tostadas with avocado, pistachios and queso fresco, or the el dorado benedict made with house made sopes (like a thick tortilla) and topped with chorizo and eggs. The side of crispy potatoes is a treat in itself. Wash it down with any signature cocktail, or a classic mimosa.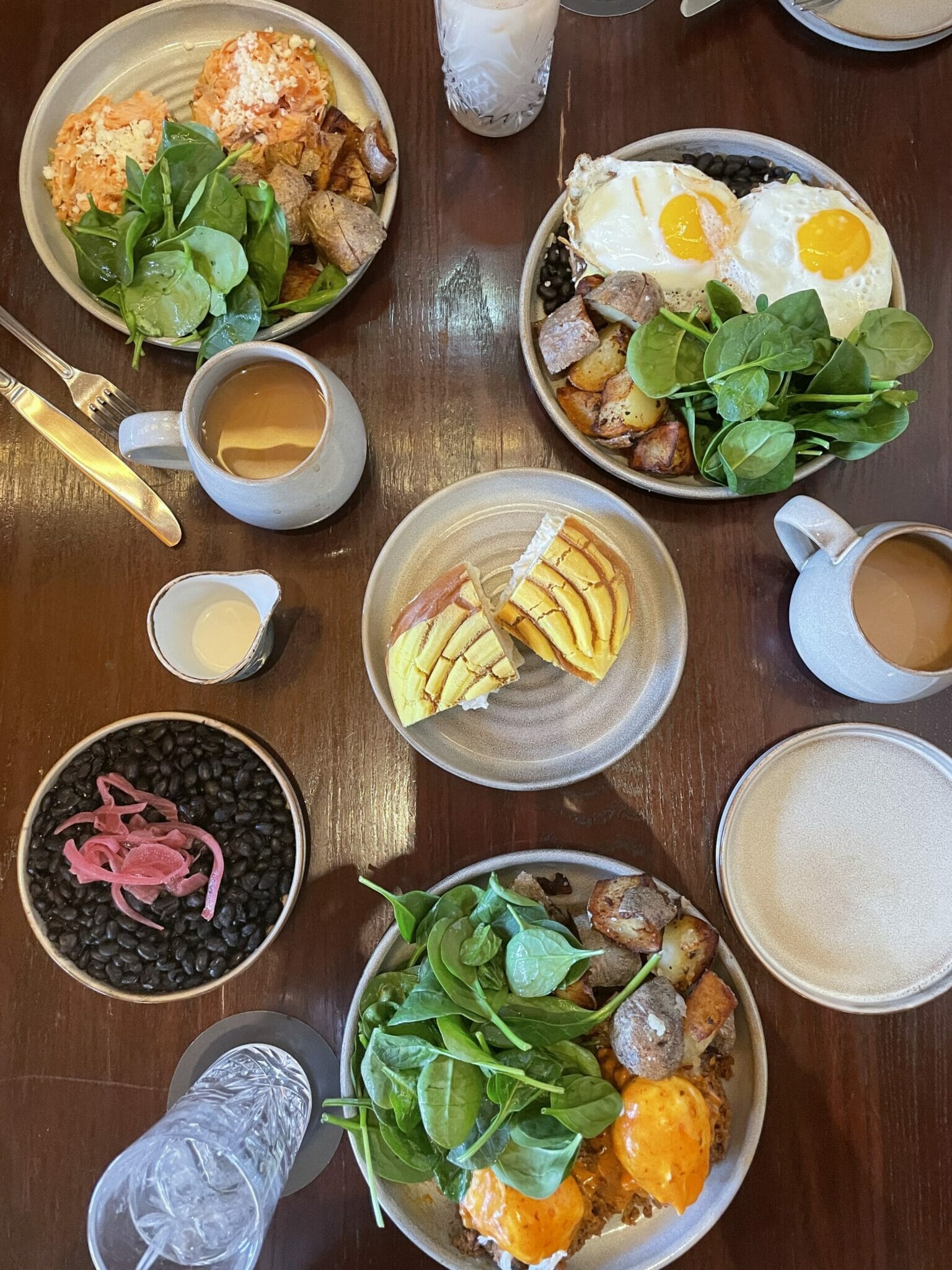 This neighborhood joint on the north/east side is a classic diner with a variety of offerings. The breakfast sandwiches on biscuits are always a favorite, or the chocolate chip pancakes. Be sure to check out the daily specials – they offer a meat lover's and vegetarian scramble of the day plus the mini quiche encased in homemade crust are always a winner. Don't forget to request coffee with their house made whipped cream. A true treat!
8. Mercies
More of a cozy cafe than a brunch spot, Mercies is an excellent new addition to the east side coffee shop crowd. Mercies opened in early 2022, near the East Towne Mall area of Madison. Mercies specializes in coffee, sandwiches, wraps, local pastries, and a cozy atmosphere. Grab your latte and cozy up by their fireplace on a cold Wisconsin day. Mercies also has a great mission in helping to fight sex trafficking in the local and global community. Grab a coffee, bite, while also supporting a good cause.
This historic factory turned event space is the perfect spot to brunch! Garver Events offers brunch on weekends. Their culinary team works onsite and uses local produce and products to make delicious brunch from scratch. Try the house made tater tots with sour cream microgreens and caviar or the homemade biscuits, warm with jam or in the biscuits and gravy. Delicious! Grab coffee from Ledger Coffee. Garver is a partner on our Bike n Bites tour! Join us to sample their brunch and lots of other local bites and sips:) Saturdays through October.
Madison has so many great places for brunch, for both the sweet and savory food lovers out there! Book your Madison Eats Food tour today to sample more great  food today!