11 Favorite Cheese Dishes in Madison, WI
Wisconsin is known as America's Dairyland for good reason. Cows reign and cheese is king. Over a quarter of the nation's cheese is produced in the state, and Wisconsin has garnered more awards for its cheese than any other place in the world! Madison, WI is a cheese lover's paradise.  You will find an abundance of cheese dishes, ranging from good old fashioned mac-n-cheese (made with a local aged cheddar of course) to more unique dishes such as cheese-topped fried plantain. Here are a few favorite–and a few surprising — cheese dishes in Madison, WI for the cheesehead in everyone.
Raclette
This traditional food from the French countryside makes its way onto the menu at two trendsetting spots.
Fromagination: Raclette Plate. Fromagination offers a raclette plate that features Emmi Roth raclette melted over fingerling potatoes and served with French cornichons, pickled red onions, and cranberry relish. Served during their weekly Friday happy hours.
Forequarter: Cheeseburger. Hit up this happy hour special for only $5! Two crispy Underground Meats burger patties, double stacked on a homemade bun, topped with house-made American cheese using Emmi Roth raclette, Hook's 2 year cheddar and housemade pickles.
FAN FAVORITES
La Taguara: Tajadas con queso. This Venezuelan specialty starts with sweet plantains, fried until golden and caramelized. They are topped with shredded queso blanco and a mild sour cream. Perfect as a dessert or appetizer.
Heritage Tavern: Tempura Bacon-wrapped Cheese Curds and Sweet Potatoes. An impossibly light batter encases Farmer John's cheese curds wrapped with house cured maple bacon from Chef Dan Fox's own Fox Heritage Farms. Presented on kebab sticks with three delicious dipping sauces–buttermilk, carrot-gochujang and truffled fish sauce.
Ian's Pizza: Mac n cheese pizza. This best selling pizza is a dairy lover's delight. A mozzarella layer covered with crème fraiche, topped with elbow noodles and Wisco mild cheddar. It's baked until piping hot on a puffy, chewy crust. Bonus: This delicious slice is included on Madison Eats Food Tours Downtown Lunch Tour!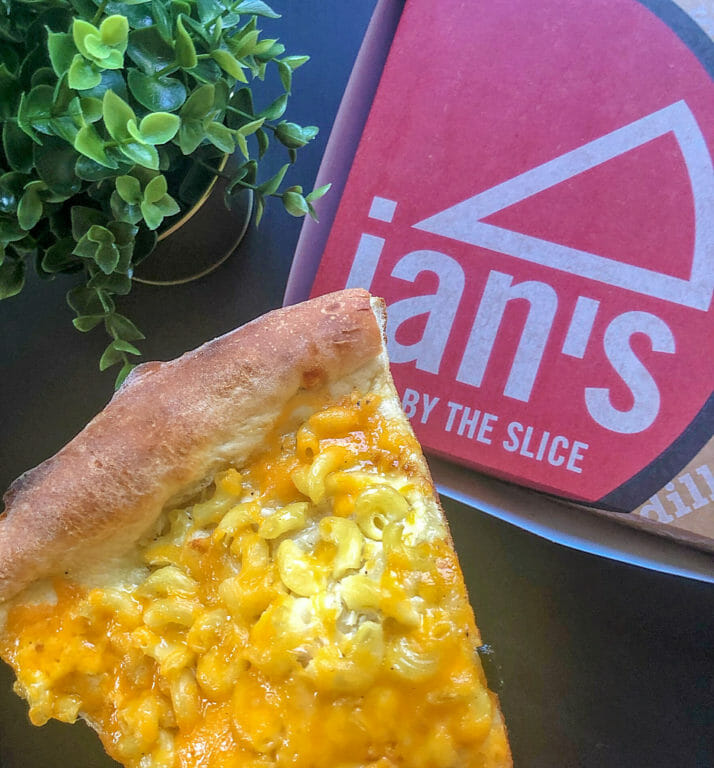 Nitty Gritty: Brunchzilla Bloody Mary. A one liter meal-in-a-glass! Enjoy the house bloody mary with Reyka vodka, garnished with fresh cheese curds, a pickle and olive and a trifecta of meat. Topped with a mini burger.
Stella's: Hot & Spicy Cheese Bread. Grab a loaf of this still-warm bread every Saturday from April to November at the Dane County Farmers' Market in downtown Madison. It's addictive, packed with provolone and Monterey Jack cheese, herbs and and a bit of crushed red pepper in a pillow of dough.
Short Stack Eatery: Sweet potato oatmeal pancakes. Enjoy a welcome change from the typical syrup-laden breakfast.  These hearty cakes are packed with pureed sweet potato and oats, topped with a bourbon and maple spiked whipped mascarpone cheese, sliced strawberries and a sprinkle of powdered sugar.
Toast: Three-Cheese Panini. A regular among the food carts at UW-Madison's Library Mall, Toast is known for its warm paninis and homemade lemonade. Their three-cheese Panini features cheddar, mozzarella, and swiss cheese with tomatoes, olives and topped with brown mustard and sriracha!
Old Fashioned: Cheese Curds. Famous No. 13 on the Old Fashioned's menu, these house-made, cheese curds are a Madison favorite! Battered in a mix of beer, buttermilk, and secret seasoning these cheese curds are a combination of pull-apart gooey-ness and crispy perfection.
Bonus: Brunkow Brun-uusto Cheese. If you're visiting the Dane County Farmer's Market during the outdoor season, mosey on over to the Brunkow booth where you can try a sample of their unique Brun-uusto Baked Cheese. A Wisconsin-made version of juustalepia, a Finnish and Swedish specialty cheese, instead of melting when grilled, this cheese develops a tasty crust and can be served as a warm, buttery appetizer!
Written by Pamela Gu and Otehlia Cassidy. Photos courtesy of Pamela Gu and Otehlia Cassidy
Published on Nov 13 2018
Last Updated on Oct 11 2021
Categories: Bakeries and Cafes, Bars, Breads, Cheese, Dining, Food Tour, Local Food Producers, Madison WI, Things to Do
Tags: cheese, cheese dishes, madison wi, wisconsin cheese