10 Black-owned places to go for delicious food and drink!
from food carts to bars, we have a bit of everything
Madison, WI is home to several Black-owned food and drink businesses. From brick and mortar establishments serving everything from African fare to Caribbean and soul food, to music venues serving up drinks, food carts and caterers, you can enjoy an array of great food (and drink) from talented Black chefs and business owners. Here are 10 Black-owned restaurants and businesses to support today and every day in and around Madison, WI. (In no particular order).
David's Jamaican serves up traditional Jamaican fare at the Monona location. You can't go wrong with a taste of the island! You must try the jerk chicken and red beans and rice, of course. The curried goat is absolutely delicious for goat lovers (and if you haven't tried it yet, I highly recommend!) while vegetarians will love the mango tofu. Wash it down with real ginger beer or maybe even a beer. Don't forget dessert! Key lime pie anyone?
Cafe Coda brings jazz, Latin and African music to Madison's eastside. Though not a restaurant, this Black-owned cozy jazz club is a must for some down time with friends listening to music, grabbing drinks and snacks and dancing. Owner Hanah Jon Taylor wanted to bring the feeling of jazz clubs where he's performed to Madison. The inviting space includes couches, a bar, benches and small cafe tables. He recently renovated the back room to make space for dance classes and larger performances.
Jodie Jefferson opened House of Flavas to bring Chicago style soul food to Madison. And she delivered! You can't go wrong with the fried catfish or shrimp and the hand cut, made to order fries! But don't sleep on the specials such as the oxtail with sides of mac n cheese and cornbread. Regardless of what you try get there early because she sells out often! Don't worry, you'll have plenty of time to try all her food; from the flavorful and fresh food to the inviting and friendly service, you will feel so at home in her restaurant you'll want to go back again and again.
This northside restaurant, owned and operated by Gambian native Mahamadou Tunkara, offers a delicious array of menu items, from traditional West African dishes such as yassa chicken (delicious chicken stewed in a mustard based sauce) and domada (a peanut stew), to gyros, burgers and sandwiches. This eclectic menu reflects the owner's personal journey from The Gambia as a child, to Egypt as a student, and then finally the US where he has lived since the '80s.
Do you want (or need is more like it!) some delicious West African cuisine for your next event? Keur Fatou serves up Senegambian cuisine, which features flavors of the two countries (The Gambia is nestled within the borders of Senegal). Try the yassa chicken, which is a classic dish from the region, featuring tender chicken stewed in a tangy and savory mustard based sauce. Or the mafe, a very popular peanut stew! You and your guests will leave full and happy.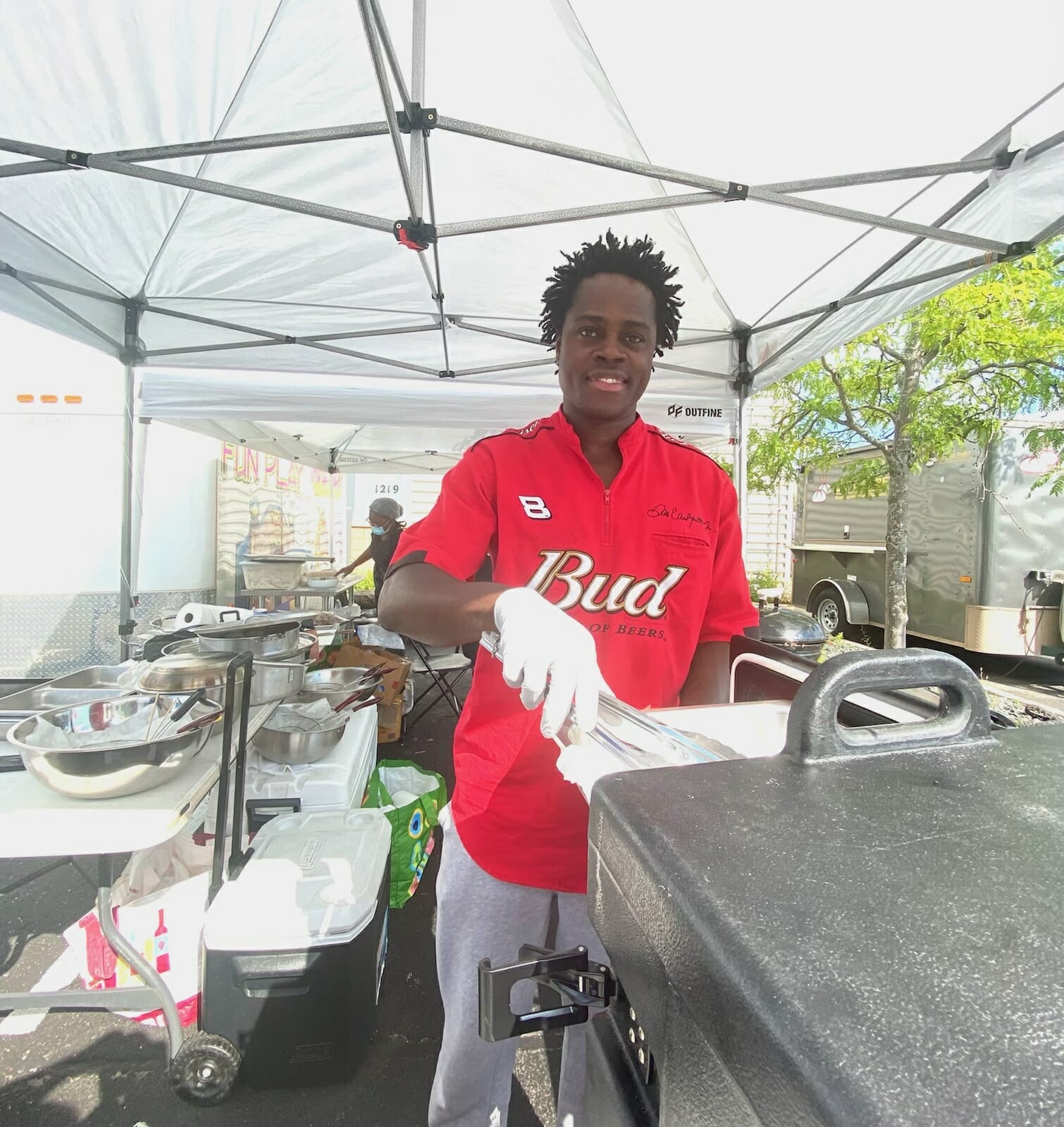 Anyone in Madison who loves soul food has heard of Mellie Mels, making soul food from closely-guarded family recipes passed down through the generations. Carmell Jackson, owner of Melly Mel's, has a personal mission to preserve Black culture, and you can taste that dedication in her delicious dishes. Famous for their Fried or Baked chicken and BBQ Rib Tips, the Mac 'n Cheese is particularly delicious and not to be missed. While Melly Mel's has closed its restaurant, catering is still available through their website.
Adding to Madison's growing variety of African food, sisters Ananda, Maleki, Afiwa, and Ayawa opened La Casserole to add their interpretation of Togolese/West African cuisine to Madison's local culinary conversation. La Casserole creates traditional Togolese dishes with a French twist in their ingredients and presentation, reflecting the French colonial history of Togo. La Casserole is available for private catering and pop ups at fairs and events.
Thony "Mango Man" Clarke, owner of Cafe Costa Rica and operator of the food cart of the same name, has been a fixture in the restaurant community in Madison. The "Mango Man" moniker comes straight from the bold, spicy, tropical flavors of his Latin-Inspired soul food dishes which feature the tastes of the Caribbean. Clarke has become particularly famous for his sauces, which he now sells by the bottle. Don't miss his Salsa Verde which goes particularly well with any dish featuring sweet plantain. The Mango Man's crowd-pleasing meals can be ordered from his website and be picked up at FEED Kitchens on Sherman Avenue. His food cart can be found on Library Mall. Please check facebook or website for up to date info.
This food cart offers a selection of Jamaican dishes and other delicious fare during the food cart season. Try their jerk chicken or shrimp tacos or the pulled pork sandwich with a delicious pineapple slaw. Available for catering! Check their facebook page for up to date information and locations.
Markos Regassa, the owner of Buraka, moved to Madison to pursue a business degree. As he tells the story, he got too many rejection letters looking for work and decided to start cooking the food from his home country of Ethiopia to sell. Seems his business degree was put to quite good use! He's been serving his incredibly popular food since 1992. The crowd favorite includes the dorowat, and we are huge fans of his samosas with the spicy sauce. PRO TIP: Go on Fridays starting at 4 for their fish fry! A Wisconsin classic, Ethiopian style. Yum!
Let us know which dish sounds good to you! You can sample food from some of these places on a private tour booked just for your team or family and friends group. We set up custom tours to support our local community. Fill out the booking form here or email us for more info!